On Wednesday, November 28, the Oakland Planning Commission will hold a scoping session about a 42-story condo building proposed for the historic Schilling Garden at 19th and Alice Streets, near Lake Merritt. At the scoping session the commission receives comments about what issues should be considered in preparing an Environmental Impact Report for the project. They will also accept comments regarding alternatives to the project and about the environmental effects of the project. The Commissioners also may discuss the project and make remarks.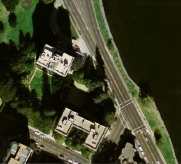 This controversial project has been the topic of several previous articles here at the Grand Lake Guardian. See
The scoping meeting begins at 6 PM at Hearing Room 1, City Hall, 1 Frank Ogawa Plaza, and this is item number 2. (See agenda.) Participants are asked to submit sign-in cards to speak before the commission. Comments are usually limited to two minutes; but the city will also accept written comments, which must be delivered by December 10, 2007.
This historic garden was originally part of the August Schilling estate. Schilling's San Francisco spice company was famous, and he also began a salt company on the peninsula. Two historic buildings were built on the property in the 20s and adjoin the site of the proposed tower, next to Snow Park. The remaining garden was used by the Bechtel family and other prominent residents of 244 Lakeside as a venue for social events. It was occasionally opened to the public, and is visible from buildings around it.
The City's Notice of Preparation of a Draft Environmental Impact Report states that:
This garden is a Designated Historic Property and is rated A1+, of the "highest importance" by the Oakland Cultural Heritage Survey. The garden [is] an anchor and primary contributor to the 244 Lakeside Drive Building Group, an Area of Primary Importance.
The Notice of Preparation identifies a wide variety of "probable environmental effects" and also states that:
The Draft EIR will also examine a reasonable range of alternatives to the project, including the CEQA-mandated No Project Alternatives and other potential alternatives that may be capable of reducing or avoiding potential environmental effects.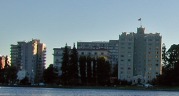 Send written comments to the designated planner, Heather Klein, by email: hklein@oaklandnet.com or by snail mail to Heather Klein, CEDA, 250 Frank Ogawa Plaza, Suite 3315, Oakland, CA 94612. Ms. Klein can be reached at (510)238-3659 or by fax, (510)238-6538. Please reference case number ER06-0009 in all correspondence.
There will be a second scoping session at the Monday, December 10 meeting of the Landmarks Preservation Advisory Board, at 6 PM (probably held in Hearing Room 1).
P.S.: To an earlier article of mine about this project, Laura Blair—of Terra Linda Development Services, which arranged a public meeting regarding this project—commented that I was unfair in calling her and Carlos Plazola "lobbyists." (Consultant and lobbyist Plazola was formerly an aide to Councilmember De La Fuente.) He is indeed currently listed on the City of Oakland's list of registered lobbyists, quoted below, but Ms. Blair is not so listed.
| | | |
| --- | --- | --- |
| Lobbyist | Client | Registration Date |
| Plazola, Carlos | Pacific Thomas Capital | 9/13/07 |
| Plazola, Carlos | O'Keefe Development | 9/13/07 |
| Plazola, Carlos | Golden Gate Views, LLC | 9/13/07 |
| Plazola, Carlos | FAMSA, Inc. | 9/13/07 |
| Plazola, Carlos | Scotlan-Lane, LLC | 9/13/07 |