Join Oakland Heritage Alliance (OHA) this Sunday for its annual home tour. This year's tour—Seeing San Antonio Anew—is a wonderful opportunity to experience a part of Oakland that is rarely on tour. The San Antonio Hills Neighborhood Association joins OHA in welcoming visitors to what were once the separate settlements of San Antonio and Clinton.
The ten-home self-guided tour runs from 1 p.m. to 5:30 p.m., Sunday, October 28. The tour's starting point is at 2004 10th Avenue (at East 20th Street).
Would you like to see grand Victorians, complete with elaborate woodwork, marble fireplaces, stained glass, flashed glass, and conical towers? On the tour you will see several of these beauties.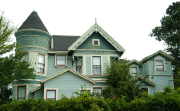 The tour also features a small cottage with unusual plasterwork installed by Portuguese craftsmen, a pair of cottages with original wood wainscoting, and craftsman-style brick chimneys. There's a charming Italianate house with pocket doors and stenciled floors. Also featured is a sweet craftsman-style house that was moved into the neighborhood and then lovingly restored. And you won't want to miss the grand Albert Farr–designed house that still retains many of its interior features.
Although there is hilly terrain, there is plentiful on-street parking.
For information, call 510-763-9218 or see oaklandheritage.org. Admission is $25 for Oakland Heritage Alliance members. For nonmembers, tickets are $30 when purchased in and $35 on the day of the tour.
Make a day of it and combine the tour with Day of the Dead festivities on International Blvd.!