Mention the Farmers Market to many people and images of peaches and summer melons on a warm day come to mind. But as the cold, rainy season approaches, the Farmers Market becomes a wonderful destination for winter produce and holiday shopping lists.
Since 1997, the Marin County Farmers Market Association has been operating a weekly gathering of local farmers and vendors along the Lake Merritt border. On a Saturday trip to the Grand Lake Farmers Market, you can find Splash Pad Park alive and overflowing with the sounds, colors and aromas of the late autumn and early winter season.
Do you miss your favorite yellow nectarines? Late fall is a perfect time to stock up on dried versions of your favorite summer stone fruits—apricots, nectarines, peaches and plums are available at several stands in sulfured and non-sulfured versions.
Dried fruits are a healthy alternative to fruit snacks for kids' lunches and make a great mid-afternoon snack at the office for grown-ups too.
In a rut?
Stuck in a rainy day dinner rut? Stop by Kai's Fresh Asian Produce for locally grown bamboo, eggplant, okra and peanuts and pick up the ingredients for a delicious homemade Pad Thai or vegetable stir fry.
November is a transitional time for the farmers market and many late summer items are still available until Thanksgiving.
At Tomatero Organic Growers, you can find organic heirloom tomatoes still in season for several more weeks. Farmers Adrianna and Chris also grow beautiful yellow sunflowers and heavenly scented lavender—perfect for a hostess gift or thank-you present.
Still in winter denial? Shoup Farms avocados have the earthy, buttery taste of summer. Get them soon—the avocado season wraps up in late November, with the winter crop of fruit returning to the market in January.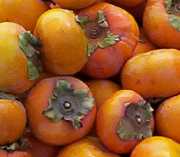 Click to enlarge
Persimmons are another versatile winter fruit—they taste delicious sliced into salads, frozen in sorbets, chopped into chutneys, or baked into bread pudding. Be sure to taste-test the different varieties, which can range from pear-crisp and mellow to softer, sweeter flesh.
Complement winter fruits such as persimmons with a drizzle of honey from Marshall Farms. You can gear up for early spring allergies with a spoonful of the local "Oaktown Neighbor 'Hood Honey" or surprise children with treats including flavored honey sticks or real chunks of honeycomb to chew.
Holiday traditions
The market is also a great place to pick up the basics for traditional holiday dishes—you'll find squash, pumpkins, yams and green beans fresh from local farms. Market manager Jim Fenton says shoppers can expect to see fresh and cooked crab arriving at the market this month as well. Add to the above list organic beef from Prather Ranch, artisan cheeses (Springhill Jersey Cheese), tasty olive oils (Big Paw) and marmalade (Robert Lambert), and your holiday dinner is almost complete!
The market is also a great source for gift ideas and finishing touches for the holidays.
At Juniper Ridge, you can find Douglas Fir Tip Tea—the perfect beverage to warm you up and get you in the holiday spirit.
Need to dress up your Thanksgiving table? Western Sun Floral brings a gorgeous variety of mixed arrangements and solid bouquets of cut flowers from Watsonville. An added bonus: Fresh flowers direct from these growers tend to stay fresher and last longer than bouquets from traditional flower shops or delivery services.
And every week, the market features stands of locally made crafts including wooden bowls, handmade jewelry, clothing, and soaps and bath products.
Before you head home to start cooking, pull up a chair and soak up the live entertainment. Musical guests rotate weekly, with the entertainment calendar featuring local bands ranging from children's music to rock to swing (catch the East Bay Stompers swing band on December 9th). Quality products, fresh foods, friendly faces and lively music every Saturday morning combine into a recipe sure to turn your shopping list into an enjoyable experience.
The how-to
The Grand Lake Farmers Market is open year round, rain or shine, on Saturdays from 9 a.m. to 2 p.m. Located at the corner of Grand and Lake Park Avenues [map], just across from the Grand Lake Theater. Located at a transit hub, it's very accessible by AC Transit via lines 12, 13 or 57 (even the NL Transbay, if you're coming from San Francisco) [plan your trip]. Or by car, taking the Grand Ave or Lakeshore Avenue exit. Four hours of free parking is available in the parking lot under the freeway with additional free parking across Grand Avenue in the Lakeview Elementary School parking lot.
Shopping List
Basics/Year Round: onions, leafy lettuces and greens, potatoes and root vegetables (beets, turnips, radishes), carrots, honey, apples, bread, cheeses, eggs, coffee, nuts, olive oil and vinegar.
End of season: heirloom tomatoes, avocados (return in January), berries, asparagus, pears, some apple varieties, figs.
In season: persimmons, pomegranates, cabbage, kale, winter squash and pumpkin, yams, okra, artichoke, guava, winter citrus, fall flowers, grapes, brussel sprouts, dried fruits, peppers, eggplant, green beans, grapes, Douglas fir tea, some mushroom varieties, some apple varieties, almonds, herbs (Thai basil, parsley, mint), fresh and cooked crab (coming soon).
Market specialty items: therapeutic massage, handcrafted bath products, jewelry, clothing, candles, bowls/dishes, gift items, prepared desserts and warm foods, preserves.