Last September, Naomi Schiff reported on a planned 42-story skyscraper barely a half block from Lake Merritt that would become the tallest building in Oakland. The site adjoins the Regillus apartment building and Snow Park.
In addition to the effect of a 407-feet-tall tower on Lake Merritt's skyline, the building would also destroy the historic Schilling Garden, on whose grounds the building would sit.
The project is now back before the public.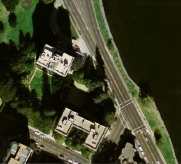 Developer David O'Keefe is sponsoring a public meeting regarding the proposed project tomorrow evening, Tuesday, July 31, at the Oakland Veterans Memorial Building at 220 Grand Avenue (corner of Grand and Harrison). (map and directions)
Mr. O'Keefe offers "an opportunity to meet you personally" from 6:30–7:30 PM. This will be followed, from 7:30–9 PM, by a presentation about the project and a question-and-answer session. Refreshments will be served.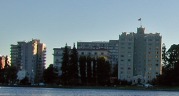 For background on the proposal, site, and threatened garden, see Naomi Schiff's earlier articles "40-story skyscraper planned at Lake. Would destroy historic Schilling Garden" (September 2, 2006) and "Overflow crowd favors keeping Schilling Garden" (September 12, 2006).
Ms. Schiff recently said that "some community members hope for an arrangement that would allow the garden to be annexed to the park—and the high-rise built elsewhere." She encourages community members to come and take advantage of the opportunity for comment.