For six years now, financier and bluegrass musician Warren Hellman has given a great gift to the Bay Area and to the music community. Hardly Strictly Bluegrass is a free festival held in Golden Gate Park, with four stages full of music. This year's event began Friday afternoon, October 6, and continued until around sunset on Sunday, October 8. Attendance was rumored to be over a quarter-million.
I've never met Hellman, but I heard him interviewed on KPFA a week before the festival. He played some banjo and talked about his great love of Bluegrass music. He seems quite pleased to be able to spend a couple million of his own dollars to turn the world on to the music he loves, and in the process he gives the players a great gig (the production values were first-rate, and we all got t-shirts, posters, and plenty of backstage TLC from the staff, all of whom seemed very happy to be on this job). And as more than one colleague pointed out, no advertising anywhere—just beautiful signposts listing the performance schedule on each stage each day, and pointing the way to other stages. Everybody wins! The only problems I heard about were audience members facing tough decisions about which acts to catch, which ones they had to miss, and how to optimize their navigation among the four venues.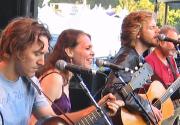 Click to enlarge
This was my first appearance as a performer at Hardly Strictly. I played on the Porch Stage Sunday afternoon with David Phillips on Dobro and lap steel, and Josh Zucker on bass and vocals. After our set ended, my wife and I wandered around a bit, eventually winding up at the Arrow Stage, where The Waybacks closed the day with special guest Bob Weir. They call this collaboration The Weirbacks.
The Weirbacks were a huge hit last April at MerleFest in North Carolina, with Sam Bush, Gillian Welch, and David Rawlings sitting in. Sunday afternoon at Hardly Strictly, the bluegrass fans and the Deadheads were out in force, and the happy crowd stretched to the ends of the meadow and into the woods as the band delivered a high-energy set of Waybacks originals, Grateful Dead classics, and favorites including the Rolling Stones' "Nineteenth Nervous Breakdown" and Led Zeppelin's "Kashmir." Welch and Rawlings, who had played their own set before a humongous crowd on Saturday, were backstage before the Weirbacks set so I knew we'd be seeing them before the day ended. The encore was a rousing "Like a Rolling Stone," with all hands on deck.