Groucho Marx once said: "Outside of a dog, a man's best friend is a book. Inside a dog, it's too dark."
This month you can simultaneously honor Groucho's memory and help the East Bay Children's Book Project celebrate National Literacy Month.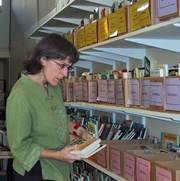 Here's how: If you have new and gently used children's books that you no longer need, you can give them to us to pass on to children who otherwise wouldn't have access to reading materials.
If you are a teacher or other professional who works with underprivileged children, please take advantage of our services. Books are available free of charge every Tuesday and Thursday afternoon from 3:00 to 6:00 PM, at the Grand Lake Neighborhood Center, 530 Lake Park Avenue.
If you enjoy children's literature and have some free time during the week, join our volunteer team — collecting, counting, sorting and distributing books.
In its first year of operation, the East Bay Children's Book Project has given away more than 47,000 books. Our clients include teachers, social workers, health care professionals and volunteers who work with children.
More than 90 Oakland teachers visited the book project last month. Typical reactions: "This is awesome." "We can't thank you enough." "We will be back soon."
One of our many repeat "customers" is Ann Daniels of the Oakland Library's Second Start program. Ann and a big contingent of volunteers work not with children, but with illiterate adults. One thousand books received from the East Bay Children's Book Project now allow Second Start to give their adult students books they can take home and, for the first time, read to their own children.
Rick Burrows, Healthy Start Specialist at Tiburcio Vasquez Pediatric Clinic, says, "Thanks again for the opportunity to participate. I have been going through the books this morning at my office. It is like Christmas or a birthday or Chanuka. It is so cool to put these books out and know that families will be doing something together while they wait for their visit with the Doc." Last week, a 10-year-old Hispanic girl very carefully organized the book shelves while her brother was being examined. She couldn't believe it when Rick offered to let her choose some books and kept saying, "A casa, mi casa?" She had never owned a book before.
Judy Monnier, from the Oakland Housing Authority, which has distributed some 20,000 books over a four year period, was so grateful for an infusion of new books, she literally waxed poetic:
A Thank You to the Children's Book Project

For low income families, just making ends meet,
Free books for their children are really a treat
After four years and 20,000 books given,
A quest for new resources had to begin,
So sad that empty bookcase staring at me,
Only one book here, can't you see?
So to my keyboard I flew
Found in that cyber world, a fairy tale come true!
So close and so helpful, so organized and generous,
It's great to have the Children's Book Project among us,
Times are desperate and streets can be vile,
But books can help children live life with a smile.
Please contact the Children's Book Project at 238-2301 to donate cash or books or offer your services as a volunteer. If you're in need of books, we look forward to seeing you any Tuesday or Thursday afternoon.