Now held over through March 25!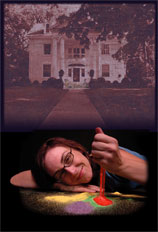 On Sunday, January 21st, six of us jumped on BART headed for the Mission in San Francisco to see "The Magnificence of the Disaster," a one-woman show written and performed by Rebecca Fisher. We had met Rebecca on New Year's day at a party hosted by a mutual friend and Adams Point neighbor.
We were knocked out by Rebecca's performance, and it was only hours later that it occurred to me that this is a perfect story for the Grand Lake Guardian, to let others know of a local talent producing new work at a venue I can reach easily and see affordably. It's taken me a few days to find Rebecca to get some details that I hope will entice you to hop on BART yourself.
Rebecca located to the Bay area from Chicago, and chose to live in Oakland because it "felt like home." Since home was originally Memphis, Tennessee, I had to ask the natural follow-on question ("really?"), to which Rebecca answered:
Yes, home but better.

I think because I grew up in a place that was shaped by racial separation, but clearly very influenced by black people, Oakland's racial mix felt comforting and familiar, and certainly a lot better. In my gut, I felt accepted and at home even before I really settled in.

… so now as I walk around the Lake, practicing my lines or working out a deeper understanding of what I want to say, I feel perfectly comfortable; this is my community and has room for me to be me here.
When Rebecca isn't writing and performing she teaches theater throughout the Bay Area. This semester she is excited about working at Oakland's West Lake Middle School, bringing theater to kids through an 8-week arts-education program that integrates a work of art into the classroom curriculum.
This spring's work of art is a storytelling piece by Wayne Harris about John Henry. By the end of the 8 weeks the students will develop their personal stories into theatrical works of art. As Rebecca says "theater has given me a way to discover my feelings and experiences. I want to share that with others, especially young people. It's been a venue that has helped me heal and I've found helps others too. I love what I do."
So if you're wondering about the title of Rebecca's play, it's a reference to a peculiar quality of Southern people in which there is time taken after a tragedy—to appreciate it. Yep, to appreciate it. And maybe like denial is the first step toward accepting a death, appreciation of a tragedy is the first step toward accepting it.
She'll explain it in the context of "The Magnificence of the Disaster," her personal story of old money, country clubs, drugs, and murder set at her family's home in Memphis. In the 105 minutes of her play—which is both tragedy and comedy—she'll be every character in her family and more.
Magnificence is directed by David Ford, who the San Francisco Chronicle's Steven Winn says "is widely regarded as the region's premier director and developer of solo performance."
The theater's name, the Marsh, reflects its vision as "a breeding ground for new performance."
Rebecca is a knock out, go see her!
"The Magnificence of the Disaster" plays Saturday and Sunday nights, through February 25 (Saturdays at 8:30 and Sundays at 7:00 PM) at the Marsh–San Francisco, 1062 Valencia Street (between 21st and 22nd) in San Francisco. It's three blocks from the 24th Street–Mission BART. [map; plan BART; plan transit]
Tickets are "pay what you can," $15, $18, or $22. Groups of four or more: $7.50 each. Through February 4th only: use the code word "triangle" online, on-phone, or at the door and pay only $7.50. Call Brown Paper Tickets at (800)838-3006 or buy tickets online. For more information, call (415)826-5750.