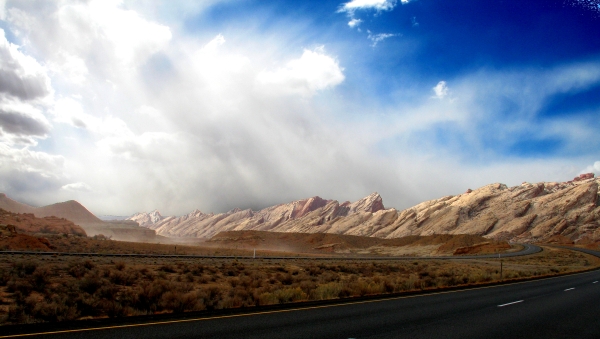 My wife introduced me to the wonders of southern Utah early in our marriage, and I have been a frequent and enthusiastic tourist in the region ever since. For the last several years I have booked a tour through the Four Corners area every February, coordinating with a conference I attend in Albuquerque.
I've never found a better place to experience awe at the eternal wonder of planet Earth. Every canyon is different—the colors and shapes and textures of the rocks and hoodoos and arches. Take a boat trip down the Colorado or the San Juan, or just drive around for a few days. Visit Arches, Canyonlands, Capitol Reef, Calf Creek, the Burr Trail, Zion, Moab—there's a new thrill around every bend and over every rise.
I took this picture on my way home from a trip that took me through Kingman, Arizona; the Navajo and Hopi Reservations; past the Four Corners and Mesa Verde to play a gig in Dolores, Colorado; across the San Juan Mountains and alongside the Sangre De Cristos and through the Rockies for another show in Denver; down to Alamosa and Los Alamos (my visit to Bandelier National Monument was a no-go because the snow was really starting to hit as I reached the park entrance); to Albuquerque for the Southwest/Texas Popular Culture Association conference, where I played at a bar downtown and at a house party in Placitas; through Gallup and on up to Moab; back into Colorado for a performance in Grand Junction; and then a relaxed, meditative two-day drive via I-70 and US-50 across Utah and the Basin and Range country of Nevada, over the Sierra on I-80, and home to Oakland. I've posted a collection of images from the trip on my flickr page.
The photo above is one of Utah's massive rock formations: the San Rafael Reef. Here's some information from the Utah's Castle Country web site:
The San Rafael "swell" is actually an anticline—a huge dome formed by pressure from underneath the earth's surface. It is 80 miles long and 35 miles wide…. The spectacular San Rafael Reef dominates the eastern side of the Swell. Erosion has exposed the jagged, upturned Navajo sandstone and cut deep canyons…. a kaleidoscope of colors splashed across rugged cliffs, canyons and arches.