Safeway treated its neighbors November 4th to tastes and tours of the newly remodeled store at 3747 Grand Avenue.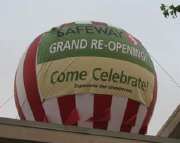 This is the chain's first remodel in Oakland. Asked why the Grand Avenue store was chosen, Jennifer A. Webber, Safeway's Director of Public Affairs, replied:
We've got great neighbors, and this is a great neighborhood. The remodel lets us renew our commitment to the Grand Lake District.
The remodel includes an expanded floral department, a redesigned produce section with a larger selection of organic foods, and a bigger wine and liquor department.
The company refers to the remodel as a "lifestyle store," with walls painted in earthtones: yellows, greens, and browns. Rather than fluorescent lights, tracklighting provides a warmer ambience.
The deli department now has hot soups, dinner plates, and an expanded menu of hot and cold sandwiches and salads.