Daniel Brajkovich relocated his Cuban-Latin restaurant, La Taza de Café, from Thornhill Avenue to Grand earlier this year. He and co-owner/spouse Minett Montoya wanted it to be more versatile, and a larger restaurant with more exposure would help facilitate that. They conducted research on the Grand Avenue location, formerly home to Autumn Moon restaurant, and liked that Grand has a lot of traffic and a diverse community.
The 35-item menu features tapas or small plates and a wide range of sangrias and Spanish wines. You can dine outside at the heated patio or inside – this is fine dining with linen on the tables and formal service. "While it is formal, it is not stuffy," Bradjkovich said. "We want our guests to feel relaxed and enjoy the Latin ambience — and our killer sangrias."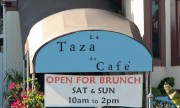 Click to enlarge
There is a wide selection of hot and cold tapas; such as ropa vieja — a classic shredded skirt steak, rendered in a traditional red wine-sofrito jus, yucca strips and chayote — and queso con jamon serrano, that they describe as drunken goat cheese, manchego, imported serrano, and sage walnut honey. LaTaza de Café has a wide selection of ports and sherries as well as sangria and beers and wines.
The restaurant has an upstairs banquet room for meetings and parties. City Search rated La Taza de Café fourth out of 50+ tapas restaurants. "Our goal here is to revolutionize how Bay Area people think about Latin food. We want to take the vast culinary traditions to a new level."
Guests can enjoy Brazilian bossa nova on Thursdays, flamenco dance performances on Fridays, and live Cuban music on Saturdays and Sundays.
La Taza de Café
3909 Grand Avenue Oakland CA 94610 [map]
(510)658-2373
www.latazadecafe.com
Tuesday-Thursday & Sunday: 5pm to 10:30
Friday & Saturday: 5pm to 12am
Saturday & Sunday Brunch 10 am to 2:pm